Sunglasses are big in Phoenix, Arizona.  Every day in the summer, the temperature is 99 degrees, F, or more. The population of 1.6 million, 5th largest city in the USA, is the largest population for a Capitol city.  Half the population is over 35.
Sunglasses, particularly prescription sunglasses, are BIG in Phoenix.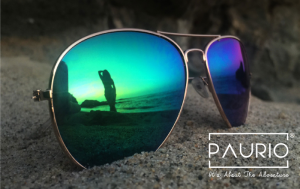 It is so hot, so often, with a brutal sun out all day long, so venturing out is a challenge.  Yes, there are many options for sunglasses in Phoenix; all the eyeglass stores, sunglass outlets and, of course department stores.  You won't go wanting for prescription sunglasses in Phoenix – and everyone has one or more.  It is essential. It would be like going to Fairbanks, Alaska without a coat.
Of course there are the bugaboos of buying and keeping sunglasses.  First, you have to shop for them.  It will require more than one trip.  Next is the cost.  $200, $300, $400……no stopping!  $700 plus not unheard of.
Then, what happens – all too often you lose them or damage them.
Hey – it is part of the cost of living in Phoenix, a beautiful, wonderful city devoid of cold!!!
So, let's get back to "adventure." Yes it is an adventure to buy prescription sunglasses, but what if you can do it in your living room and get the whole kit-and-kaboodle for $79.00, complete, including shipping?  What if the styles are the iconic Aviator and Hollywood?  And what if it comes with a Peace of Mind Guarantee –lose or damage – replaced free – no questions asked.
Just go to paurio.com and voila – great style, great price, and not to worry about losing.
Better to spend the time you save by having the Phoenix Adventure – swim with Dolphins, drive to Grand Canyon, visit Desert Botanical gardens, Camelback Mountain, many museums, including museum of musical instruments, Chase Field – professional baseball.  And more!
But don't forget to take your Pau Rio's!!!!!