If You Looking Where To Buy Polarized Sunglasses Just Call Us Now:(212) 348-4020
Where to buy Polarized sunglasses Finally, spring is here. The sun is shining, and the sky is clear blue. While you can do with darkened glasses during summer, the reflection of sunlight from the snow, or the wet roads as you drive, increases the glare, making the vision a bit of a challenge. While you are on the beach, or by the pools during a sunny weather, you also don't want the reflection from the water to harm your eyes.
Combating these problems might be quite easy. For instance, you could stay indoors, or shield yourself with a shade. But what happens when you want to enjoy the sun? What if you want to drive somewhere? That said, you need a pair of polarized sunglasses.
What are Polarized Sunglasses?
These are types of sunglasses meant specifically for reducing glare, either from water, direct sunlight, or other reflective surfaces like computer screens, tablets, and phones among others. By minimizing or totally getting rid of the harmful bright lights, you get to see more clearly. Your visual acuity is restored regardless of the environment you are in. They come in several designs for various activities. Also, the lenses take several colors including tints of amber, silver, blue, black, gray, and green.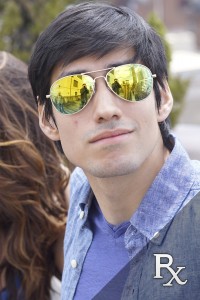 Why Buy Polarized Sunglasses?
Polarized sunglasses are meant for several types of activities including diving, surfing, golfing, fishing, and boating among others. With every niche they appear in, they specifically serve to reduce the glare from the water or a surface that directs harsh rays to your eyes, making them painful. Whichever the case, these kinds of sunglasses are beneficial to your eyes. Apart from keeping your eyes safe and ensuring you are comfortable wherever you are, they also enhance your vision.
Why do you think some tennis players have polarized sunglasses? The pair enables them to discern the flying ball before responding swiftly. Similarly, some anglers are successful in their tasks because of these types of glasses. This shows how beneficial they are both on water and on land.
Where to buy Polarized sunglasses ?
If you find yourself wondering to shop for polarized sunglasses, you have come to the right place. Before getting much further, www.paurio.com is the place. At Pau Rio, all your other questions about these types of glasses are addressed. If your questions include:
• Are polarized glasses worth it?
• Are they right for me?
• What if they don't fit?
• Where do I find specific types of lenses, frame, and shape?
• There is no nearby store in my location, where do I find them?
Then, try Pau Rio. You will find all the answers you are looking for, among many more.
There is a lot to consider regarding polarized sunglasses. In fact, many are bombarded with seemingly unending choices. By choices, it means the design, the frame, the shape, and the size. But what if you could find these glasses all in one place, and you could try them on to see how they fit and how they work? You heard right. Pau Rio brings them all into one convenient space, allowing you to browse through a number of varieties before you settle on a particular one that defines your life.
Of course, you will instinctively ask yourself whether they will augur well with your lifestyle or preference. Fortunately, Pau Rio is all about the adventure. With a clear understanding that the sunglasses are not just fashion pieces, you won't have to buy them if they don't impress you. First, you can try them on for free, and if you are convinced they are what you want, you can go ahead and be a proud owner of the best-polarized sunglasses.
Plus, there is a wide selection of them to choose from. With varied types of thicknesses, you may opt for the 0.75 mm lenses or the 1.1 mm lenses. Similarly, if you desire polycarbonate, plastic, or glass types of lenses, you are sure to get them at Pau Rio. It will largely depend on the purpose of the sunglasses and your personal preference.
If you are looking for plastic, carbon, metal, nylon, or a blend of any of these materials, for the frame, you are guaranteed of their availability in the best quality ever. Shopping couldn't be any easier than with Pau Rio.
Join the wide consumer base who have given the polarized sunglasses a chance and loved the beauty. If you love two-toned colors, you will get them. Moreover, if you are much into the monochromatic sunglasses, nothing will stop you from having the best At www.paurio., you get them from as little as $65!
Where to buy Polarized sunglasses just call us now:(212) 348-4020
Why Quality Level is a Priority
If you want to get the best out of your polarized sunglasses, then the quality level is what you should prioritize. Luckily, the www.paurio.com store only stocks quality sunglasses. The last thing you want happening is owning a pair that does little to reduce the glare or one that doesn't protect you from the harsh UV rays.
Low quality polarized sunglasses won't last long. Also, they could distort images, or simply fail to function as they should. But with Pau Rio's Peace of Mind Guarantee and the quality of the products offered, you can be sure to get an after-sale service for your sunglasses without a worry.
Still, you get the hard metal types that are suited for several outdoor activities like hiking or climbing. On top of that, if you desire the hydrated types that will always return to their original form even after being stepped on or accidentally crushed, your buying decision is seamless. Go for the Aviator frames, and the mirrored glasses, still you get the best at a fair and high competitive price.
All you need to do is browse the side selection of the polarized sunglasses. If you have any questions, any doubts, or any other concerns, the team of professionals will always be there, and ready to address them. Make your order today! Get the discount that will save you enough to cater to other needs.
Pau Rio is where to get every type and brand of polarized sunglasses that you want. Order them and enjoy free shipping within the US. It's worth every penny you spend.
 Where to buy Polarized sunglasses just call us now:(212) 348-4020